COVID-19 information for students, agents and the international education sector
International students and the international education sector are a valued part of New Zealand's education system and community. We want to ensure that students, agents and providers have ready access to the information they need.

For students – go to NauMai NZ for information especially for international students in New Zealand.
Current situation in New Zealand - as at 14 September 2020, 16.22 NZT
Auckland is now at Alert level 2 with extra restrictions. The rest of New Zealand is at Alert Level 2.
Auckland's Alert Level will next be reviewed on Monday 21 September. The Government has agreed, in principle, to move Auckland down to Alert Level 2 with eased restrictions on gatherings. If the restrictions do change, this will happen at 11:59pm on Wednesday 23 September.
The Government has agreed, in principle, to move the rest of New Zealand down to Alert Level 1 but will make a final decision on 21 September. If restrictions do change, this will happen at 11.59pm on Monday 21 September.
High-level overview of Alert Level 2
Alert Level 2 is not life as normal. You can still go to work and school, but you should:
keep a distance of 2 metres from people you don't know when out in public and 1-metre physical distancing in controlled environments like workplaces, where practical.
wash your hands
sneeze and cough into your elbow
keep a track of where you've been and who you've seen by using the NZ COVID-19 Tracer app
wear a face covering if you are on public transport or a plane.
Restrictions on gatherings in Auckland under Alert Level 2
At Alert Level 2 in Auckland gatherings will continue to be limited to 10 people.
Funerals and tangihanga will be limited to 50 people, and have to meet other conditions set by the Ministry of Health.
Outside Auckland, gatherings such as church services and social events will continue to be limited to 100 people.
Read more about Alert Level 2 here.
Read more on New Zealand's official COVID-19 website - Unite against COVID-19.
Face coverings
From Monday 31 August, you will be legally required to wear a face covering or mask on public transport and planes throughout the country. That includes trains, buses, and some ferries.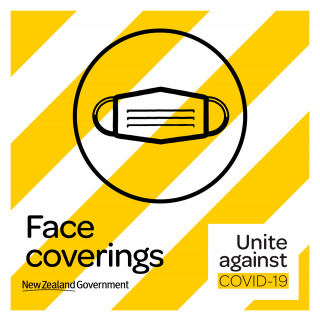 Face coverings don't need to be worn on:
By children under 12
On school buses
On charter or group tours
On interisland ferries
On private flights
By private contractors of air services such as top-dressers.
These groups are already likely within each other's bubbles as part of a registered group or have space to physically distance.
Study during Alert Level 2
All schools, early learning services and tertiary education institutions are open under Alert Level 2.
Tertiary students should check their organisations' onsite learning plans.
It is safe to attend all forms of education. Additional public health measures are in place. It is important that all learners can continue their education.
On the advice of public health officials, any educational facilities connected to a confirmed or probable case of COVID-19 must close on an individual or group basis to allow contact tracing, and then potentially for a further 14 days. Read more on New Zealand's official COVID-19 website - Unite for the Recovery.
The Ministry of Education website is the official source of information for New Zealand's education sector during the COVID-19 outbreak. It has advice and information for students and their families including in simplified Chinese. It also has information for education providers and homestay families.
For any other information that your tertiary education provider is unable to help with, call the Tertiary Education Commission on 0800 123 797.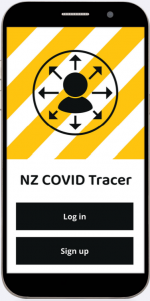 NZ COVID Tracer App
Fast and effective contact tracing is one way we can all work together to prevent any further spread of COVID-19 in New Zealand. One easy way to keep track of where you've been is the NZ COVID Tracer App.
All public transport services and small passenger services such as taxis are required to display QR codes.
COVID-19 testing for international students
Please note that publicly funded COVID-19 related care - including diagnosis, testing and treatment - is provided free of charge to anyone who requires it, including international students. More information on free COVID-19 testing

Some countries require travellers to confirm a negative COVID-19 test before they leave New Zealand. Students who require a test prior to departure can organise this through Healthline or their GP, but they will need to pay for it.

See questions and answers on pre-departure COVID-19 testing.
Key sources of health information
If you are in New Zealand:
The official New Zealand Government source of information is website - covid19.govt.nz - with information on:

The symptoms of COVID-19 and how to seek medical help
How to protect your mental wellbeing
Self-isolation
Content for speakers of other languages. There are currently 28 translations of the COVID-19 site available, including Hindi, Simplied Chinese, Arabic, Korean and Japanese.

Call Healthline for health-related calls about COVID-19 on 0800 358 5453. Or for international SIMs +64 9 358 5453. You can talk with a member of the National Telehealth Service and interpreters will be on hand. The number is staffed by nurses, paramedics and health advisors.
You can also follow the Ministry of Health on Facebook @minhealthnz for key updates and on Twitter @minhealthnz
If you are outside of New Zealand the best source is the World Health Organisation (WHO):
Information for education providers
Students
Information for international students on COVID-19 and Alert Levels is available on NauMai NZ, an Education New Zealand resource to support international students studying in New Zealand.
International students can sign up to NauMai NZ to receive regular email updates.
Students from China can follow the ENZ WeChat account.
If you are a student and need some help, we have developed a hardship information resource. This includes information on where you can get food parcels and other essential items.
Assistance for foreign nationals programme
The Assistance to Foreign Nationals Impacted by COVID-19 Programme opened 1 July 2020.
Any foreign national in New Zealand – including international students – may apply for this support if they are experiencing temporary hardship due to the effects of COVID-19. More information here.
Visas
Granting domestic status to school-aged children unable to return home, introduction of COVID-19 short term visitor visa and extension of visitor visa
The government has changed some visa settings to support visitors whose visas will expire shortly but are unable to leave New Zealand due to COVID-19.
The Government has announced it will grant domestic status to 1300 school-aged children from overseas who are unable to return home because of COVID-19.
The Government has announced that it will automatically extend current onshore visitor visas, including student visas, that are due to expire between 4 September and the end of October 2020 for five-months.
A new COVID-19 short-term visitor visa is being introduced to help temporary migrants who are unable to leave New Zealand due to international travel restrictions when their current visa expires. This includes students.
The COVID-19 short-term visitor visa can be applied for by any temporary migrants who are currently in New Zealand, and whose visa is expiring and they need time to make plans to travel home. This may include, but is not limited to:
Students whose course has finished and who are not able to, or do not wish to, apply for another student visa.
Work visa holders with rights to work for any employer, whose current work visa is expiring and they may not meet the requirements to get another work visa
The visitor visa extension will affect people who are currently onshore and hold a visitor visa that is expiring between 4 September and the end of October 2020.

Note there are some visitor visa categories that will not be extended. These include the critical purpose visa holders, guardians of students, and partners or dependants linked to a work visa holder whose visa was extended previously
Domestic status granted to school-aged children unable to return home
Around 1300 school-aged children from overseas are unable to return home due to COVID-19 and cannot currently access education in New Zealand for reasons including a breach of visitor visa requirements or inability to afford unanticipated costs of international student fees.
To support these children, the government has granted them domestic student status for the remaining 2020 school term.
To be eligible, children must:
• Have arrived in New Zealand before 2 April 2020
• Hold a valid visa
• Be living with family
• Not have arrived in New Zealand intending to enrol as a fee-paying international student
• Not have been already enrolled and paying fees as an international student.
More information on eligibility criteria is available on this Ministry of Education page.
The COVID-19 short-term visa
The COVID-19 short-term visa is a two-month visa to help temporary migrants, including students who are currently unable to leave New Zealand.
It is intended to help people reaching the end of their current visitor, work, student or partnership visa who may not meet the criteria for another visa, and need time to arrange travel home.
The two-month time period provides people unable to leave New Zealand with more time to make arrangements to return home.
Individuals can apply for the COVID-19 short-term visitor visa from mid-September.
Temporary migrants will need to submit an application and pay a fee to apply for this visitor visa. You can apply for the visa more than once, provided you can show that you are still unable to leave New Zealand due to COVID-19. Evidence of this will include plane ticket cancellations, border closures, transit-hub closures or attempts to contact your Embassy / High Commission for assistance or repatriation.
There is more information available on the Immigration NZ website.
Support if your visa has expired
If your visa has expired, you will need to send an email outlining your circumstances to s61@mbie.govt.nz, including:
personal details: full name, date of birth, and your Immigration New Zealand client number if known
a copy of the personal details page in your passport.
contact details: your email address, phone number and postal address
an explanation of your circumstances
what type of visa you would like (for example a visitor visa) and how long you believe you might be required to extend your stay in New Zealand.
International travel
New Zealand border
The New Zealand border is closed except to New Zealand citizens and residents, and a small number of limited exceptions.
There is more information on the border closure and what some of the exceptions are on the Immigration NZ website.
Repatriation travel for international students
Education providers who are assisting international students with flights must meet their duty of care obligations towards students.
For more information on travel for international students returning to their home countries, visit this page on the COVID-19 website.
Work and financial issues
COVID-19 Resurgence Wage Subsidy
The Government has announced a new, two-week wage subsidy scheme and a simplified leave scheme for employers, including self-employed people, who are financially impacted by the resurgence of COVID-19 and changes to COVID Alert Levels.
Applications can be made from 1pm on 21 August 2020 to 3 September 2020. The scheme is open to employers throughout New Zealand. Read more here on the Work and Income website.
COVID-19 Wage Subsidy
The New Zealand Government has a wage subsidy available to support employers and their employees affected by COVID-19.
International students whose visa allows them to work in New Zealand and whose employment has been affected by COVID-19 are advised to check with their employer whether they are eligible for a wage subsidy.
More details on the wage subsidy, including frequently asked questions by employees, are available on this link.
Healthcare and insurance
International students are eligible for free, public healthcare if they think they have COVID-19. Further information is available on the Ministry of Health's website.
People who develop symptoms of a cough, fever, shortness of breath, a sore throat, sneezing and runny nose, and a temporary loss of smell should seek medical advice – phone Healthline's dedicated COVID-19 number 0800 358 5453.
New Zealand Qualifications Authority advises international students to contact their insurance provider directly for up-to-date advice on any changes to their cover as a result of the COVID-19 outbreak, and to then consider their options, and take the course of action that is in their best interests.
Other advice